Helpful Advice for Business Owners When Making a Hail Damage Claim
With rain and hail pounding Texas recently, many business owners may be left with warehouses in need of new roofs and inventory that must be replaced.  They may be wondering how they are going to make the repairs needed to their damaged roofs, windows, and walls.  Business owners are likely worried about how to pay for the cost of all of the damage.  The Insurance Information Institute estimates that hail causes about $1 billion dollars in damage to property each year.  If you are one of the business owners facing repairs after a recent storm, you are about to venture into the troublesome world of making a business hail damage claim. Contact an insurance claim lawyer.
 Steps to Take When Making a Business Hail Damage Claim
Immediately following a hailstorm, a business owner should thoroughly investigate their property.  This may mean hiring someone to inspect the roof of your office building or warehouse.  Often, people are unaware of hail damage until the roof starts to leak.  Taking these steps at the outset of your claim and shortly after the storm, may help make your hailstorm claim that much easier to get through.
Contact your insurance company immediately — You are responsible for filing a hail damage claim, and you should do that as quickly as you can after the storm. You will also want to get the process started early to have an adjuster out early to survey the damage.
Understand your policy – Before the storm hits to make sure that your business if fully covered. This includes damage to the physical structure and contents, together with damage to the operation of the company or business interruption insurance.  After the storm, request a full copy of your policy if you do not already have one.
Log your Contact – Keep track of your contact with the insurance company. Whenever possible, communicate in writing.
Photograph the Damage – Document the damage with photos and video. As soon as possible after or during the storm, take pictures of the damage to the building and the contents.
Inventory – Create a list of all items lost or damaged in the hail storms.
Inspect – You need to inspect or hire someone to inspect everything that could have been damaged by the hail. This includes the roof, siding, HVAC units, outdoor equipment, and windows.
Contract with Caution – Hire reputable contractors to conduct inspections and repairs. You will be using their work to justify your claim.  Think about that when hiring.
What to Watch out for When Hiring a Roofing Contractor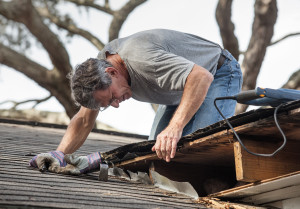 Hailstorms are big business for contractors and roofers.  In the weeks after hailstorms, you may see signs for different roofers lining the streets.  If the damage from the storm is widespread, you may even see out-of-state contractors come to town to try and gain business.  Contracting and roofing companies may be formed overnight, and bids may be sketched out on notepads.  Watch out for these fly by night operations.
Often the insurance adjuster is going to want to get together with the roofing contractor to make sure they are on the same page. The roofing contractor you are hiring should not have an issue with meeting with your adjuster and should be professional enough to present your claim.
If a contractor offers something for free, be wary.  As the old saying goes, nothing in life is free.
Business Interruption Claims
Making a business hail damage claim can be a tricky undertaking.  Not only do you have to worry about the physical damage to your building and your inventory, but you also have to worry about the financial loss during down time.  If your business has to shut down as a result of the storm, you may need to file a business interruption claim.  Your claim can include:
The cost of salaries paid during the time the business is shut down.
Profits lost during the closure.
The cost to relocate temporarily or permanently.
These are only a handful of the potential losses included in a business interruption claim.  To prove all of the harms suffered during the interruption in business, you may need expert help including a forensic accountant.  An attorney experienced in this area can hire the right experts and to recover all of your business losses.
Contact a Business Hail Damage Claim Lawyer
Don't sacrifice any of your businesses losses by going it alone.  If your insurance company has denied or underpaid your business hail damage claim, contact The Law Office of Mynor E. Rodriguez, P.C. for your free consultation today.