Making a Hailstorm Damage Claim on your Homeowners Insurance
For most of us, our home is our biggest investment. Hailstorms can cause significant damage to our homes, and when this happens, homeowners should not be left fighting their insurance company for coverage. Often, though, insurance companies either wrongfully deny hail damage claims or attempt to underpay them. Making a homeowners insurance hailstorm claim should not be a fight, but if it turns into one, you may need the help of an insurance claim lawyer.
Assess the Damage Quickly After the Storm
Homeowners may not immediately notice hail damage, and the typical one-year window to file a claim may pass by the time they see a leak in the roof. As a result, if your neighbors notice damage to their homes, or if you suspect that there has been damage to your roof, contact a reputable roofing company to conduct an inspection.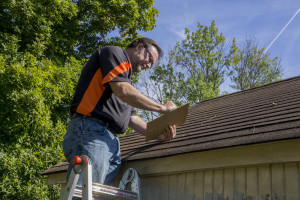 To protect your property, following a hail storm:
Hire a professional roof estimator or contractor to assess the extent of the possible roof damage.
Before you hire any contractor, gather details about what the inspection will include, typically they should provide photos and a diagram of your roof showing the locations of the damage.
Check for wreckage to vinyl siding; it will typically have visible holes, which may cause splitting and eventually leaks.
Inspect your HVAC system for damage and also cracked or broken windows. If needed, contact an hvac service provider at the earliest to do the necessary inspections.
Contact your insurance company immediately to open a claim.
It is important to check your home quickly after a storm for any damage. If you delay in documenting the damage, the insurance company can justify a denial claiming that something other than the storm caused the harm.
Making the Hail Damage Insurance Claim
Once you've assessed the damage and had an estimate for repair, you will have to go through the claim process. This is where insureds often run into the most difficulty. Insurance companies deploy "bad faith" tactics to avoid paying or to justify underpaying claims. Below are some tips for making the hail damage insurance claim, however, to maximize the value of your settlement, you may need the help of an attorney and experts.
Begin your claim immediately. You have the obligation to contact your insurance company. Do not delay in opening the claim. You don't want to be the hold up in getting your claim processed.
Gather accurate and complete details of the damage and keep track of your out-of-pocket expenses to make repairs. Keep a journal or log of your communications with insurance personnel (e.g. date, time, what the adjuster told you, etc.).
Document detailed evidence that supports your claim, including before and after photos and videos if applicable
Only make temporary repairs needed to protect your house and belongings.Your claim may be denied if you make permanent repairs before the adjuster inspects the damage. The adjuster does not know the condition of your home before the damage. As a result, if you make all of the repairs before the adjuster gets there, they may not take your word that the repairs were needed due to storm damage. If you are not sure whether a repair is considered permanent, contact the insurance company before beginning repairs. It is important to only make temporary repairs. Once you are able to make permanent repairs, you can call people like Valley Service (https://valleyservice.net/fargo-services/furnace-repair) out to get your home ready to live comfortably in again as quickly as possible.
Be there when the insurance company's adjuster inspects your home. You should have your contractor or builder with you. Your contractor or builder may discuss estimates or technical specifications with the adjuster or your insurance company. Consider this when hiring a contractor. The contractor that will do the repairs needs to be professional enough to justify the need for the repairs to the adjuster.
Contact an Attorney Handling Homeowners Insurance Hail Damage Claim
If you find yourself in a situation where your insurance company is ignoring your hailstorm claim or trying to bully you into taking less than the full amount of your claim, you may need the help of an attorney who has experience handling homeowners hailstorm claims. Contact The Law Office of Mynor E. Rodriguez P.C. today.