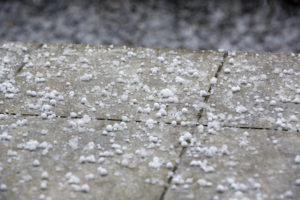 Warm weather is a breeding ground for severe storms.  Windstorms and hailstorms seem to thrive in the warm Houston air. Serious hail storms can produce hailstones the size of softballs.  Hail of that size can do serious damage to homes and cars.  These harms often result in the wrongful denial of your claim.  You need a Houston hail damage insurance claims lawyer.
Hailstorms in the Houston area have caused damage costing hundreds of millions of dollars. High winds, driving rain, and pelting hail can demolish homes and businesses. Hailstones have been known to rip apart siding, severely damage roofs, and destroy air conditioning systems.  This type of costly damage means insurance claims.  And any insurance claim means frustration, headaches, and often disappointed customers.
If you've had hail damage to your home or business, you've likely made a claim on your insurance.  Few of us can afford to pay cash for serious construction repairs.  You may also be feeling rather unsatisfied with your insurance company if your claim has been denied or underpaid.  Many insurance companies are experts at finding ways to wrongfully deny your claim.
Insurance Companies May Wrongfully Deny Your Claim
Most of us don't want to make a claim on our insurance.  We don't want to lose our coverage or risk raising our rates.  So, when we do use our insurance, it is because we have to.  Insurance companies aren't always on the up and up.  Many find ways to wrongfully deny your claim.  Or they may look for ways to underpay your claim.  Some common excuses for not paying what they should include:
Your roof was too old
You didn't maintain your home the way you should
The damage was already there
Your possessions weren't worth what you say they are worth
Saying you need a patch job instead of replacing things or fixing them properly
For many of us, our home is our biggest asset.  A natural disaster is one thing.  An insurance company taking advantage of you to ruin your home is another.
How to Make a Hail Damage Insurance Claim
If you need to make an insurance claim, you may be wondering how to do it so that you get the most money that you can.  Below is helpful advice for successfully making your hailstorm case from start to finish.
The Law Office of Mynor E. Rodriguez P.C. has helped Houston businesses and homeowners take on their insurance companies. They have worked to ensure their clients receive the compensation they deserve.
Contact a Houston Hail Damage Insurance Claims Lawyer
The attorneys at the Law Office of Mynor E. Rodriguez P.C. understand the typical defenses, excuses, and reasons insurance companies give for wrongly denying or failing to pay the full value of these claims.
If your insurance company has delayed, denied, or underpaid your hail damage case, contact a Houston hail damage attorney.