Advice for Business Owner's When Making a Hurricane Damage Claims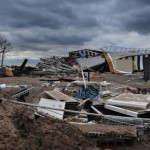 Hurricanes damage business just as often as they damage homes.  Hurricanes can rip through warehouses destroying your inventory, cut the power to your refrigeration system destroying all of your perishable goods, and hurricanes have destroyed apartment complexes displacing all of your tenants.  When this happens business owners hurricane damage claims become an issue.
Business hurricane claims can be complex.  Mistakes made in a business loss claim can result in thousands of dollars in losses.  Reviewing a commercial insurance policy to determine coverage and exclusions, in and of itself, requires an attorney with experience in this area.  Mynor E. Rodriguez understands the nuances of commercial insurance policies and understands how insurance companies operate.
How to Make a Business Hurricane Claim
Making a business hurricane claim is a complicated undertaking.  Don't go it alone.  There are many elements to making sure that you receive compensation for all of your losses.  Your claim may include:
Business Interruption – You may have a business interruption claim. When purchasing business insurance, you should seriously contemplate purchasing coverage for losses suffered while your business is shut down.  Provided you've had the foresight to buy this insurance, you may have coverage for lost business income, the payroll that you have to pay while employees aren't working, and expenses to cover rent on a temporary space, and expenses to move and reopen your business elsewhere.
Temporary Repairs – You have an obligation to mitigate your damages. That means you have to "stop the bleeding" if possible.  This includes making temporary repairs to prevent the damage from getting worse.  For example, putting a tarp on the roof to prevent water leaks from damaging even more of your office contents.
Create an Inventory – Take your time and create a thorough inventory of destroyed office contents, damage to your buildings or structures, and list all inventory or products that have been destroyed or lost.
Even though you may hold up your end of the bargain by providing proof of your loss and acting quickly and candidly with your insurance company, they may not uphold their duty to deal fairly with you.
What Value can an Attorney add to my Business Claim?
An insurance claim attorney should help you discover and prove all of your business losses.  This is a difficult time-consuming process.  An attorney can help you in these areas:
Investigate your Claims – A skilled attorney can hire experts to investigate your loss and document the damage. You may need structural engineers or forensic accountants to justify your losses.  Your attorney can make that happen.
Making a Record of your Claims – Recording all of your losses in a format that the insurance company can appreciate is a skill. Mynor Rodriguez has this skill set and will put it to work for you.
Did you Forget Something? – When you are in the midst of salvaging your business you may not be able to think of every loss. Your attorney is there to point out areas where you may need to pay more attention.
Timeliness – Insurance companies must adhere to the Texas Insurance Code guidelines and pay timely. Your attorney is there to hold the insurance company's feet to the fire.
Contact a Business Owners Hurricane Damage Claims Attorney
You've worked hard to build your business.  Hurricane damage can put you out of business.  Don't let that happen.  Hold your insurance company to their agreement to cover your business losses.  Keep your dream alive.  Contact The Law Office of Mynor E. Rodriguez P.C. for your free consultation today.  Learn your rights.