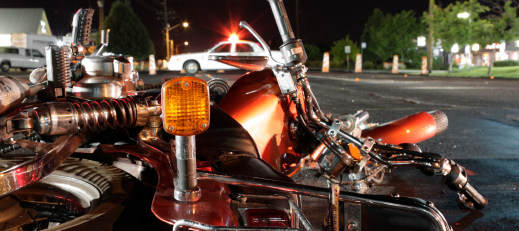 With limited impact protection and their smaller size making them hard to see, motorcyclists face increased risks on roads and highways. In 2012, motorcyclists were more than 26 times more likely than passenger car occupants to die in a crash and five times more likely to be injured.  Motorcyle accidents can prove fatal for riders.  Contact a personal injury lawyer today if you've been injured in a crash.
Many acts of Negligence can Cause Motorcycle Accidents
Negligence on the part of a driver can include everything from not paying attention to reckless driving. Some examples of neglect that can cause a motorcycle crash include:
Speeding
Driving while drunk or under the influence of drugs
Failure to yield
Changing lanes without checking for motorcycles
Failing to obey traffic signs or lights
Driving while distracted by cellphones or texting while driving
Any motorcycle accident has the potential for serious injuries, as operators and passengers typically have very limited protection. Even a low-speed collision can cause a bike to skid, severely injuring the operator or passenger. Although helmets, jackets, gloves, and other gear can reduce some damage, motorcyclists are still far more exposed to injuries than those in cars or trucks.
Injuries sustained during motorcycle accidents include:
Broken bones
Skull fractures
Brain trauma
Lacerations
Spinal cord injuries
Fractured vertebrae
Burns
Internal injuries
It is important that any settlement or resolution fully compensates you for all of your harms and losses. For example, a motorcyclist who fractures vertebrae in an accident may require months of surgery, physical therapy, special equipment and devices, and long-term medications. These costs can add up more quickly than expected, to it is important not to accept a settlement without ensuring full compensation.
Hire a Motorcycle Accident Lawyer Today
If you've been hurt in a motorcycle wreck, the attorneys of The Law Office of Mynor E. Rodriguez P.C. can analyze the details of your situation and put your mind at ease while seeking compensation on your behalf.  Contact us today.