Texas is the country's primary source of crude oil and natural gas. Our state's oil-rich status means many Texans work in the oil industry.  Although these are good jobs, they are also dangerous. Sometimes oilfield workers get hurt through no fault of their own.  When they do, they need a personal injury lawyer.
In Texas, hundreds of injuries and deaths happen every year, and many happen in our area. These tragic accidents impact employees and families significantly and jeopardize their future. To add insult to injury, the family must also deal with bills from the hospital and the insurance companies who delay compensation and add to the stress of this difficult time.
Mynor E. Rodriguez and his legal team want you to know that there is help. We can assist you to deal with the insurance companies to get you the settlement you deserve. For employees who have been injured, or for family members who have lost a loved one in an oilfield accident, we are available now and ready to help you stand up to these big oil companies for your right to fair compensation.
Statistics from the Oil & Gas Industry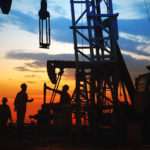 Workers in the Oil & Gas industry risk their lives every day for their jobs. According to the Bureau of Labor Statistics, 2.5% of the total workplace deaths in 2013 took place in this industry.  That is 112 of the total number of 4,405 individuals who died due to injuries at work.
About 19 out of every 100,000 oil and gas workers lose their lives in a workplace accident. The risk of dying on the job for employees of other private industries is a fraction of this at 3 out of every 100,000. Approximately 20 of the Texas oilfield deaths involve workers hit by machinery or equipment and/or vehicle crashes.
Unfortunately, employee safety is not the oil companies' highest priority. The opportunities for massive profits have overshadowed making sure their workers are safe. In the United States, from the years 2004 to 2008, fatal work injuries increased by 21%. According to the Houston Chronicle, in the state of Texas, between 2007 and 2011 workplace deaths dropped in other industries, but not in oil and gas.
Common Reasons for Oil and Gas Injuries
The machinery and tools needed to work on an oilfield can be extremely dangerous when not used correctly. Small mistakes in procedure can cause major damage to workers and equipment. Some common causes of injuries are:
Neglect by the company
Failed or improperly maintained equipment
Employee exhaustion
Collapses in the mines or trenches
Gas leaks
Explosions
Blowouts
Pipeline failures
Untrained personnel
Lack of safety protocol at drilling and refinery sites
Lack of safety during the moving of equipment and machinery
The lack of safety regulations and compliance procedures contribute to the frequency of accidents, and the statistics show the tragic consequences of injuries and deaths happen on the job.
Typical Injuries from an Oil & Gas Accident
Oilfield work is dangerous. However, neglectful employers and contractors can make it more dangerous.  When someone ignores their duty of care people can get hurt.  Oilfield injuries can include:
Serious burns
Back and spinal injuries, including fractures and herniated discs
Chemical burns
Torn muscles and ligaments
Loss of vision or hearing
Traumatic brain injuries and head trauma
Victims of oilfield accidents and injuries usually need intensive hospital care, which may include surgeries and physical therapy that is expensive and time-consuming. The expenses and stress on your family can make life tough. Choosing the right attorney to guide you through this process can help speed up the process and dramatically improve your chances for a full recovery of your health and finances.
Important Steps to Take Following an Oil & Gas Injury
Your primary focus after your injury should be taking care of yourself. Getting immediate medical attention is crucial.  Have a coworker take photos and videos of the scene following the accident and any equipment that may have been involved.  You can also have photos taken of your injuries.
After seeking medical attention, the next priority is to make a complete report of the injury to your employer. Contact your supervisor to get the process started. It is essential that the details of the incident are documented and recorded as soon as possible after the accident. This record of the incident is the first step in the claims process.  When an accident occurs, even if you are still able to work, report it to your supervisor and then stop working and contact an oilfield accident lawyer for your protection.
It is important not to provide formal statements or sign documents related to the incident before you speak to your attorney.  Signing documents that you don't fully understand can dramatically decrease your chance of getting compensated properly.
Contact an Oilfield Accident Lawyer
It is important to consult an oilfield accident lawyer immediately after an incident and have them complete an investigation. Meanwhile, remember to refuse to discuss a settlement offer from an insurance company without first discussing it with your lawyer.
Mynor E. Rodriguez and his legal team will find the cause of your injury. He will take on big oil and insurance companies, and won't stop until you are compensated for your injury and loss.  Contact them today.